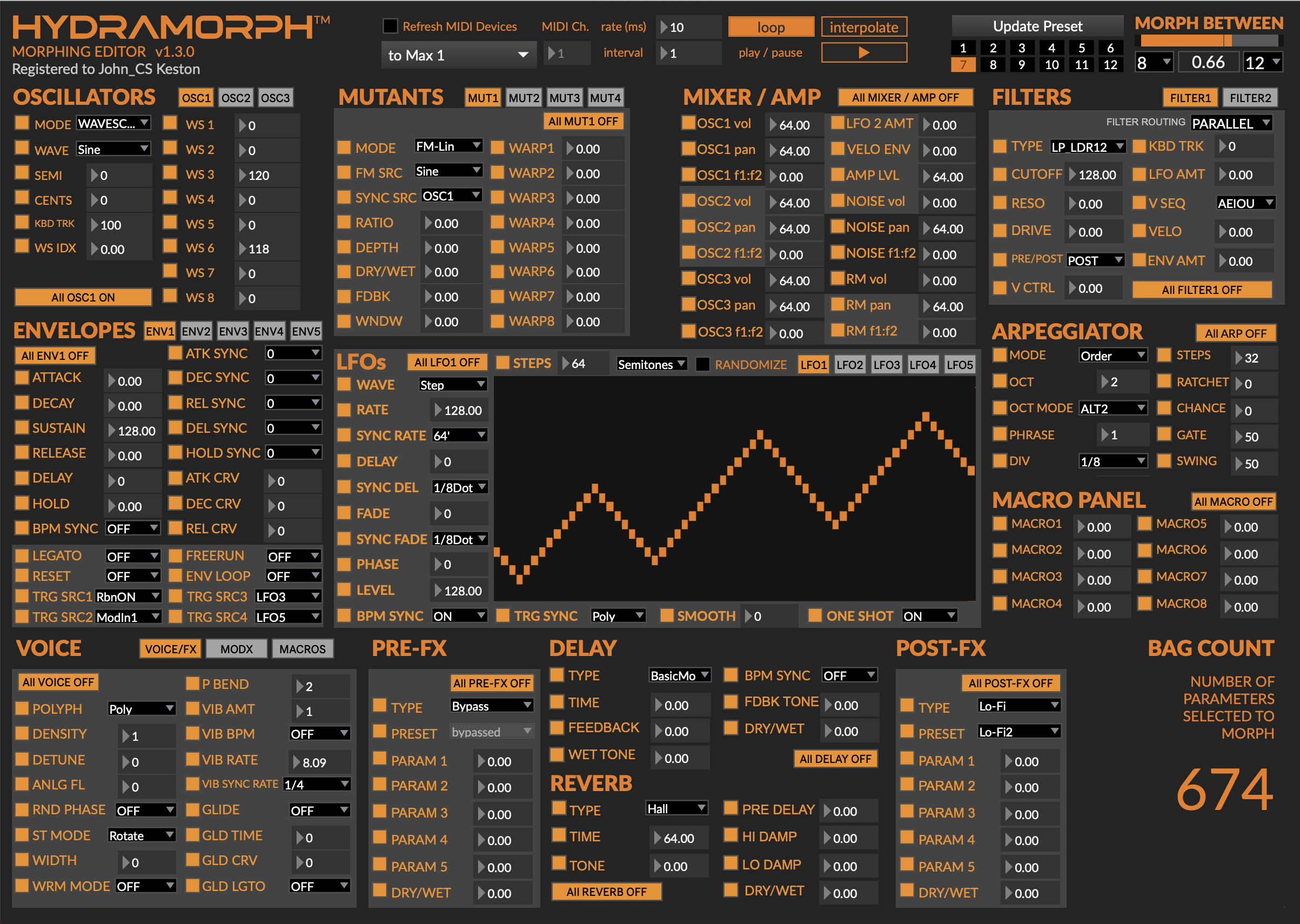 HYDRAMORPH™ is a generative sound design tool for the Ashun Sound Machines Hydrasynth polyphonic synthesizer. The application is designed to algorithmically morph parameters on the instrument in realtime. Keep playing or record the results as up to 674 parameters are manipulated! Use HYDRAMORPH to create anything from chaotic, rapidly-changing textures to slow, evolving drones.
HYDRAMORPH will help you navigate the expansive sound design possibilities of the Hyrdasynth through realtime morphing of customized parameter sets. Explore endless, unique soundscapes, illustrating how diverse and powerful the Hydrasynth is. This tool will help you uncover new territory hidden within the sonic depths of your instrument. Although HYDRAMORPH was specifically built to work with the Hydrasynth, the software is independently designed and developed by John C.S. Keston of AudioCookbook.org and unaffiliated with Ashun Sound Machines (ASM).
HYDRAMORPH is currently available for Mac OS 10.11.x or higher, and Windows 10. Click one of buttons below to order HYDRAMORPH for USD $49.99. You will receive an email with download instructions and a registration key within 12 hours (usually much sooner) depending on your timezone.
PRESETS
HYDRAMORPH opens with twelve presets. Each preset stores the state of the checkboxes, the values of every parameter displayed, the RATE (ms), the interval (1-200), the state of the [interpolate] and [loop] buttons, and the state of the section toggles (i.e. [All OSC1 OFF]). Pressing a preset button labelled 1-12 will send the parameter values to your Hydrasynth and recall the state of the HYDRAMORPH interface. This makes it convenient to use HYDRAMORPH in a performance setting. Keyboard shortcuts for the presets are mapped to the keys 1,2,3,4,5,6,7,8,9,0,-,=.
TESTIMONIALS
I have used editor/librarians, randomizers at various times since the 80's. Never have I found a randomizer like HYDRAMORPH. It is far superior to any that I have used, including SoundDiver, MidiQuest, Unisyn, the randomizer on the Hydrasynth itself as well as the one on Virus TI. And, against all my many hours of experiences with all of those software creatures, I am finding that using this software has a definite "fun" factor! Have now spent many hours settling in with using HYDRAMORPH for Hydrasynth and it is paying off big time. Have saved 80+ very custom, unusual Patches, which is my taste. I can do big raw or subtle washes and pads with great complexity that would have taken me forever to do onboard the Hydra alone. My favorite sounds are complete sounds that are odd, weird, or have a never-heard-that-before quality to them. It is fun listening to the live randomizing of HM. and the results have been outstanding. The Hydrasynth is a very deep machine and with the aid of my Mac and HYDRAMORPH I have been able to quickly render very complex deep interesting sound results. Highly recommended for Hydrasynth owners. — Larry Gaab
IN THE NEWS
HYDRAMORPH is a generative sound design tool for the Ashun Sound Machines Hydrasynth polyphonic synthesizer. The application is designed to algorithmically morph parameters on the instrument in realtime. — MatrixSynth
Synthesist and sound designer John Keston has released Hydramorph, a third-party generative sound design tool for the Ashun Sound Machines Hydrasynth polyphonic synthesizer. The application is designed to algorithmically morph parameters on the instrument, letting you rapidly explore new sound possibilities and also giving you a new way to create music with the Hydrasynth. — Synthtopia
Meanwhile, sound designer John Keston (from Audio Cookbook) has released Hydramorph; a third-party software editor for the Hydrasynth that's designed to algorithmically morph parameters. It's like hitting an enormous randomise button and you can sit back and let it take you on a journey in Hydrasynth possibilities. — GEARNEWS.com